*Editor's Note: This story was rated as false by an independent fact-checker as the bill has now been said to have created "no new offenses, but helps ensure that prosecution of alleged threats is always possible by establishing an alternative venue that can be used where venue otherwise cannot be clearly established." The story has been updated to reflect this information.
—
According to Big League Politics, House Bill 1627 is the latest bill introduced
by Delegate Jeffrey M. Bourne that pertains to words against public leaders.
The legislation "provides that certain crimes relating to threats and harassment may be prosecuted in the City of Richmond if the victim is the Governor, Governor-elect, Lieutenant Governor, Lieutenant Governor-elect, Attorney General, or Attorney General-elect, a member or employee of the General Assembly, a justice of the Supreme Court of Virginia, or a judge of the Court of Appeals of Virginia."
Some say it's an attack on free speech, but claims the bill wouldn't criminalize criticism, but rather 'changes where certain crimes against public officials can be prosecuted.' They say that the bill doesn't actually create any new offenses.
"If any person, with the intent to coerce, intimidate, or harass any person, shall use a computer or computer network to communicate obscene, vulgar, profane, lewd, lascivious, or indecent language, or make any suggestion or proposal of an obscene nature, or threaten any illegal or immoral act, he is guilty of a Class 1 misdemeanor," the bill states.
So who does the bill protect?
According to the legislation, it bars anyone from launching threats against "the Governor, Governor-elect, Lieutenant Governor, Lieutenant Governor-elect, Attorney General, or Attorney General-elect, a member or employee of the General Assembly, a justice of the Supreme Court of Virginia, or a judge of the Court of Appeals of Virginia," which again, has technically been the law, but now adjusts ability to prosecute.
Virginia citizens spoke up about the new influx of laws in the legislature.
"The governor and the leadership of the democrats have declared war on law-abiding citizens and gun owners and their votes today just confirmed that that's where we're going," said Philip Van Cleave, President of Virginia Citizens Defense League following this week's peaceful rally of more than 22,000 Americans protesting the attacks on the second amendment.
Most of those in attendance were pro-2A. Thousands of them came to town with their weapons openly carried, locked and loaded.
Referencing a "credible" threat of violence, the media warned that this event could be a blood bath. Governor Northam enacted a state of emergency around the capitol building in Richmond that started on January 17th in advance of yesterday's Lobby Day 2020.
He did so in response to what CBS News referred to as "credible threats of violence surrounding the event," including white nationalist rhetoric and plans by out-of-state militia members to attend."
As it turns out, the media was right to alert everyone. It was also fortuitous that the governor enacted the state of emergency and banned guns from the capitol grounds.
At the rally, hundreds of pro-gun attendees were arrested on felony charges for beating a gay reporter, busting out windows of local businesses, setting cars on fire and throwing 'milkshakes' (cups of liquid quick-drying cement) into the crowd.
Furthermore, Lobby Day attendees were… oh wait… hang on just a second.
Ah, I knew something seemed off. Those accounts were from Antifa protests last year.
Courtesy: Wikimedia Commons
In Virginia, there was only one arrest. A 21-year old woman was arrested and charged with a count of wearing a mask in public.
No shots were fired. No one threw things at people who had differing viewpoints. No one had to be taken to the hospital because they were viciously and brutally attacked. No one was shouted down and told to "shut the f— up."
It seems as though law-abiding, gun-owning patriots aren't the problem.
Oh, wait. We already knew that.
Yet state governors like Ralph Northam and California's Gavin Newsom, and the rest of their America-hating ilk would lead you to believe that they are.
"Look punk, look punk, we know what you're about, you're an infiltrator, get the fuck out"
Glow in the darks are having a tough day today.
12.3K3:49 PM – Jan 20, 2020Twitter Ads info and privacy4,910 people are talking about this
22,000 American's showed up to support 2nd Amendment freedoms in Richmond. Friend of LET, Stephen Willeford was in attendance and gave a quick speech.
22,000 people.
Likewise, tens of thousands of guns attended the rally as well…and not a single one of them pulled their own trigger and killed or wounded anyone.
And ironically, that AR-15 that Sheila Jackson Lee has referenced, the one that "fires .50 caliber rounds and weighs as much as 10 moving boxes full of stuff," was no where to be found.
It must have been at SHOT Show out in Vegas this week.
Crowd chants "Northam out" as the 2nd Amendment rally gets underway. Hundreds are here. Thousands are expected.#VirginiaRally #LobbyDay #Richmond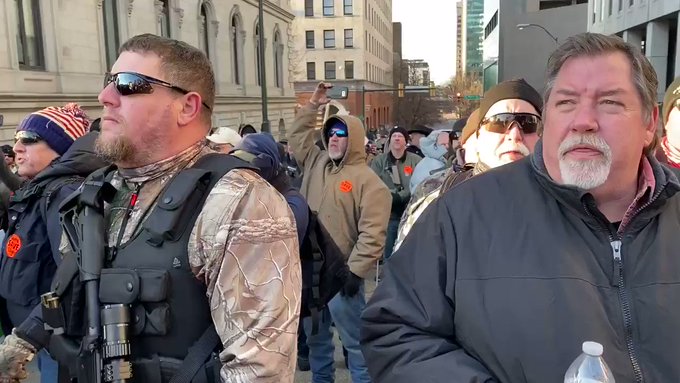 4,6812:27 PM – Jan 20, 2020Twitter Ads info and privacy2,800 people are talking about this
But in contrasting styles, we would like to remind you what protests look like when directed from the left.
Groups like Antifa has always managed to be elusive when it comes to getting justified sentences for the behavior of individuals within the group during their riotous demonstrations throughout the United States.
Last November some justice was finally served to an Antifa thug who viciously assaulted someone coming to the aid of another individual being assaulted.
This past June, Antifa demonstrators took it upon themselves to beat up conservative journalist Andy Ngo and others in Portland, Oregon. In one particularly gruesome attack, local conservative Adam Kelly had his head split open with a baton.